Results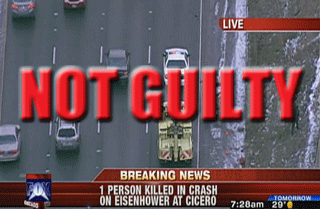 Lewis Gainor recently defended a man who was charged with killing a person in a traffic accident on the Eisenhower in Chicago. He was accused of falling asleep at the wheel, and told troopers from the State Police, "I might have fallen asleep."
Laboratory testing showed he had Ambien, a prescription sleep medication, in his system at the time. He denied ever taking Ambien.
The case was tried by a jury of 12 people who returned a NOT GUILTY verdict on August 22, 2013. Circuit Court of Cook County. Case No. M2501689.
Read more about the case from Fox News or watch the story on ABC:
Read more about Lewis Gainor's results for his clients:
Lewis publicizes the outcomes of his cases for informational purposes. Client names are not disclosed, but case numbers are public record.