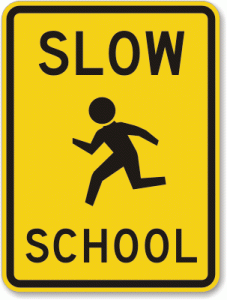 While the City of Chicago was busy moving forward with plans for speed cameras in Chicago's school zones, apparently it overlooked an opinion from the Attorney General that says the program is not legal.
Plans for a multi-million dollar traffic camera system were developed to increase child safety, or generate additional revenue for the city, depending on who you ask.
But the program has been put on hold because 38 years ago, the Illinois Attorney General issued a written opinion that school zone speeding tickets cannot be legally enforced until it is determined that children are actually present.
This seems like common sense to most motorists, since school zone speed limit signs specifically say "ON SCHOOL DAYS WHEN CHILDREN ARE PRESENT."
Under the proposed system, basically, an traffic camera ticket could be challenged by a driver if the photo does not show a child present on a school day.
Nine companies have bid for the project, which is expected to be very lucrative for the city and the winning company. And as expected, the technology companies are displeased with the legal requirement:
"It was incredibly challenging," said C.B. Brechin, the CEO of Brekford Corp., a Maryland-based camera operator that is among nine bidders in Chicago. "We had to come up with completely new technology because of the pedestrian requirement.

"It's the only one in the nation, and you have a situation where this quirky law is damaging the entire program."
The above quote says it all. What a shame that something as quirky as the law could interfere with Chicago raking in millions from its residents.