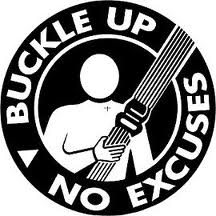 Illinois lawmakers passed a bill that makes an important change to the vehicle code this year. Starting January 1, 2012, anyone who drives or rides in a motor vehicle in the state of Illinois will be required to wear a seat belt.
In the past, a backseat passenger was not obligated to wear a seat belt. Instead, only the driver and front seat passengers, and children in the back seat, were required to wear a safety belt.
But state lawmakers changed the statute. Under the amended Section 12-603.1, everyone must wear a safety belt inside the vehicle:
Each driver and passenger of a motor vehicle operated on a street or highway in this State shall wear a properly adjusted and fastened seat safety belt.
625 ILCS 5/12-603.1(a).
Passengers who ride in the rear seat of a taxi are not required to wear a safety belt.
Violating Section 12-603.1 is a petty offense with a maximum fine of $25. It is not a moving violation, and therefore, cannot result in a driver's license suspension.
The new section also provides that failure to wear a seatbelt does not constitute negligence. In motor vehicle accidents involving injury or death, an important issue is whether the injured party (the plaintiff) should have his damages reduced because of his own negligence.
While it may seem counter-intuitive to give motorists a pass on wearing seat belts if they get hurt, Illinois lawmakers have explicitly provided that failure to wear a seat belt does not mean the plaintiff should have his damages reduced:
Failure to wear a seat safety belt in violation of this Section shall not be considered evidence of negligence, shall not limit the liability of an insurer, and shall not diminish any recovery for damages arising out of the ownership, maintenance, or operation of a motor vehicle.
625 ILCS 12-603.1(c).
If you were involved in a motor vehicle accident involving injury, consult with a traffic code lawyer, because you could get sued.